MRO focus: How the Middle Eastern market is shaping up in 2022
The Covid-19 recovery was well underway last year in the Middle East and, despite the uncertainty caused by the emergence of Omicron, 2022 looks set to be a strong year for MRO companies headquartered there. Jason Holland reports
[This article first appeared in the January/ February 2022 issue of MRO Management]
Some 3,000 new commercial aircraft valued at US$700 billion will be required in the Middle East over the next two decades, with US$740 billion of aftermarket services such as maintenance and repair needed.
That's according to Boeing's '2021 Commercial Market Outlook' (CMO), with the aircraft manufacturer expecting the region to capitalise on the recovery of regional and international travel and cargo demand.
Middle East passenger traffic and the region's commercial fleet are projected to more than double over the CMO's 20-year forecast period, according to Boeing, with more than two-thirds of aircraft deliveries to the region accommodating growth, while one-third of deliveries will replace older aircraft with newer models.
"The Middle East region's role as a global connecting hub continues to be important for developing markets to and from Southeast Asia, China and Africa," says Randy Heisey, Boeing's managing director of commercial marketing for the Middle East. "The region has been a leader in restoring confident passenger travel through multi-faceted initiatives that aid international travel recovery."
The CMO bodes well for the MRO companies headquartered in the Middle East. Many of them were able to make a strong recovery from the worst of the Covid-19 crisis in 2021. Etihad Engineering, for instance, said it would most likely close the year "pretty much at pre-pandemic levels". The emergence of the Omicron variant of Covid-19 caused a dent in market confidence and added to existing uncertainty levels, as with the rest of the world. But there are good reasons to believe this might only be a blip and the growth trajectory seen in 2021 will continue in 2022.
"The Middle East – I always believed and I've certainly seen it – is leading the recovery," says Fraser Currie, CEO of Jordanian MRO Joramco. "We have an order book that is solid. We've just looked at our financial results for 2021 – it's the highest revenues ever recorded in the history of the company. Yes, we're still dealing with Covid but it's right to specifically call it Omicron. We're dealing with Omicron now. The protocols are still the same but we're seeing a completely different profile in terms of the symptoms and the state of the unwellness of the individual who gets it."
He reports that Joramco is currently at maximum capacity, running 17 lines of heavy maintenance – five widebody and 12 narrowbody. It is even in the position of having to turn work away. "We see the MRO industry in the Middle East doing extremely well. The region is set up, some of the competitors are in-house MROs as well as independent MROs," he reports. "We look towards Emirates, for example – they led the way with getting their fleet back in the air, with very proactive decisions taken by the leadership there – so Emirates are just marching ahead. I fly on an Emirates A380 very regularly and the aircraft is full – and that's a regional flight in the Middle East.
"There is a bit of a mismatch though between the airlines putting aircraft back and the MROs not having enough capacity to react quickly enough to get them in the air. That was always going to be the case – there was always going to be a bow wave and that is what is hitting now, albeit smaller than expected."
Frederic Dupont, VP of technical sales at Etihad Engineering – one of the largest in-house MRO companies in the region [that also supports third-party customers] – reports a similar situation in which the company is "completely full today. We have secured a lot of new customers and benefited from the recovery of the industry."
Etihad Engineering has had to adjust the make-up of its business as a result of the Covid-19 crisis. Where it used to be predominantly widebody-focused it now has a "significantly bigger content on the narrowbody end", according to Dupont. 
That's largely because the MRO recovery was led by narrowbody work as it was these aircraft types which were flying at much greater levels. But widebody work has returned across the Middle East. "We've seen a resurgence in widebody work since the American routes opened up again," reports Currie, "and interestingly we're now turning widebody work away."
The pick-up in widebody MRO activity in the Middle East will continue in 2022, as the big players operate more flights, Dupont believes. "There's going to be a lot of return to service throughout 2022, as there are still quite a few aircraft parked," he says.
Review of MRO companies
The MRO market in the Middle East is driven by airlines' in-house operations, independent companies and joint ventures and partnerships with both local and international players. MROs from outside the region might also win MRO contracts from Middle East-based airlines; in one recent example, Gulf Air awarded Air France Industries KLM Engineering & Maintenance (AFI KLM E&M) a support contract covering the CFM56-5B engines powering its A320ceo fleet. A component support contract for the Kingdom of Bahrain national carrier's A320 fleet is already in place between the two companies, and they have been working together for more than 10 years, initially with an engine support contract for the airline's A320s and A340s.
"It is a powerful signal of our ambition to expand in the Middle East and Africa across the full array of our MRO services and in particular our engine support services, enabling us to respond quickly to demand in an appropriate manner," says AFI KLM E&M's SVP commercial Pierre Teboul.
Turning our attention to Middle East-headquartered MROs, the aforementioned Etihad Engineering offers light and heavy maintenance including, but not limited to, advanced composite repair, cabin refurbishment and component services around the clock from its facility adjacent to Abu Dhabi International Airport. 
The facility has an area of 500,000sq m with 140,000sq m dedicated to aircraft parking and preservation. Aircraft hangars at the facility cover approximately 66,000sq m, including 10,000sq m of aircraft painting facilities.
Flexibility and adaptability proved key for Etihad Engineering in managing the Covid-19 crisis. "In 2022, we are continuing with our strategy to diversify our portfolio," says Dupont. "We are working very hard to be as flexible and reactive as we can, to meet ever changing customer requirements. They are looking for more solution-orientated services rather than one-size-fits-all. We're putting a lot of focus on customer support and experience."
Speaking to MRO Management in 2021, Etihad Engineering's head of MRO sales David Doherty outlined the company's vision to be "the 'MRO of the future', utilising the latest technologies to provide added and differentiated value to our customers".
He said: "We have successfully automated our logistics operation using laser-guided parts retrieval technology and RFID systems; our automated tool management system helps us keep track of thousands of our tools onsite; and we will be ramping up our onsite additive manufacturing capability to produce and certify a wide range of aircraft parts. 
"We are also exploring new technologies like drone inspections and artificial intelligence to add more efficiencies to our operations and further speed up our turnaround times."
In its modern facilities in Dubai, Emirates Engineering is another of the large in-house airline MROs that also supports the fleets of 30 other airlines through third-party maintenance contracts. Offering extensive base and line maintenance capabilities as well as a paint hangar, various overhaul workshops, an engine maintenance centre and an engine test cell, it is well positioned to do so.
The MRO wings of major airlines have in recent times announced collaborations with third-party MRO service providers, and Emirates is no exception. In 2019, for example, through its aircraft engine MRO division Emirates Engine Maintenance Centre (EEMC), the company signed a Memorandum of Understanding (MoU) with Sanad Aerotech, a wholly owned subsidiary of Mubadala Investment Company. 
The companies were aiming to change the UAE's "future MRO landscape by establishing collaborative groundwork for the delivery of world-class MRO services through shared knowledge and a strong heritage in aviation excellence". The collaboration is expected to create aero-engine centres of excellence, dedicated repair and training capabilities, and enable knowledge sharing and technology collaboration.
Sanad has been active in building strategic partnerships, including with OEMs such as Rolls Royce, GE and International Aero Engines (IAE). Most recently, in November 2021, Sanad signed a technology collaboration agreement with Dubai-based Lufthansa Technik Middle East [a regional subsidiary of Germany-headquartered Lufthansa Technik] to develop innovation and technology solutions to digitalise MRO operations within the aviation industry. 
Lufthansa Technik Middle East and Sanad will aim to support the "growing digitalisation requirements of MRO businesses" by investing in research and development. The partners intend to use digital capabilities such as artificial intelligence and virtual reality to reduce turnaround times and costs.
"In the expected return of the MRO business to post-Covid growth, digitalisation will play a decisive role," says Lufthansa Technik Middle East's chief executive officer Ziad al Hazmi. "Therefore, we are proud to join forces with Sanad in order to jointly advance our capabilities in this field even further. 
"I am confident that this new cooperation will not only improve our competitiveness, but will also open up whole new possibilities and capabilities for MROs in the Middle East. And most importantly, it will soon also yield the first benefits for our valued local and international customers."
Lufthansa Technik Middle East offers comprehensive component supply and the repair of structural and composite materials for airline and VIP customers as well as maintenance operations on all short- and medium-haul Airbus and Boeing aircraft, including an engine wash service. The company's airframe related components (ARC) pool provides access to the complete range of spare parts for CFM56-5B and GE90 engines.
The previously mentioned Joramco, in which Dubai Aerospace Enterprise has an 80 per cent ownership, is embarking on a growth strategy after successfully navigating the Covid-19 crisis. "There will be a lot of growth, and we've secured land deals at Queen Alia International Airport where we're based, and that's for the construction of new hangers both for maintenance and paint services," reports Fraser Currie, who was appointed CEO of the company in October 2021 having previously been the CCO since April 2018 [see page 28 for our 'Top table' interview with the executive].
"So we're pushing ahead with that. Final designs are in an advanced stage now, and we are looking at having all agreements for that in place by the end of the first quarter [of 2022] and having new hangars in place taking aircraft by the end of the first quarter of 2023. That will put something in the region of another 25 per cent capacity on top of what we have at the moment. We wish we'd built the hangars sooner!"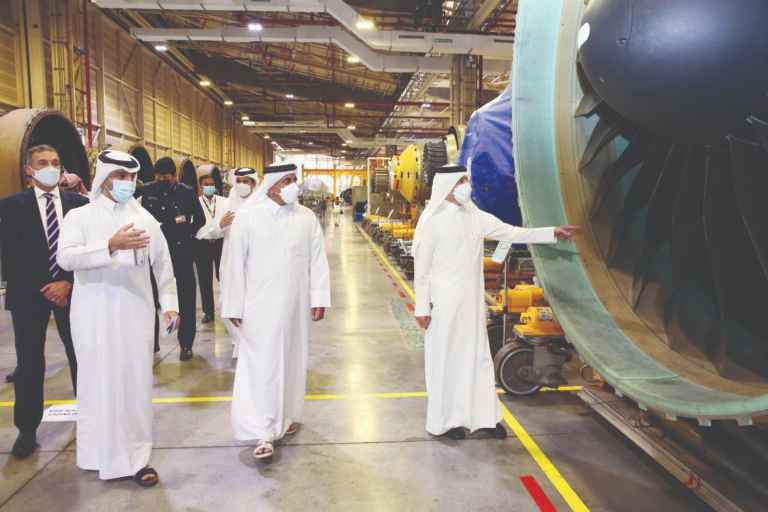 Qatar Airways is another company expanding its MRO footprint. In April 2021, the company opened a 9,000sq ft engine facility as it aims to streamline the cost of its technical maintenance operations by more than US$2.2 million per year. The new facility is located in the Qatar Airways Technical Maintenance complex and is expected to enable the airline to improve workflow by over 1,800 man hours per month, or 23,400 man hours per year.
This will be achieved by centralising Qatar Airways' engine production and engine parts storage processes, increasing the number of its engine production lines from four to eight covering a variety of aircraft engine types. In addition, the facility can house a total of 80 engines of varying sizes in a temperature and humidity controlled environment. Two specialist 'dust control' rooms limit the presence of dust and harmful particles, while a dedicated supply chain area aims to minimise waiting times for the ordering and transportation of spare parts.
Qatar Airways' group chief executive Akbar Al Baker notes a strategy of continuous improvement and expansion of its technical maintenance facilities. "With the new engine facility, we have not only created one of the most technologically advanced engine assembly and disassembly facilities available within the commercial aviation industry to date, but also doubled our engine production capabilities," he says. 
"The facility's extensive dedicated supply chain area also means that we have instant access to a ready supply of engine parts and equipment, reducing our reliance on external suppliers and further supporting the reliability and technical capability of Qatar Airways' fleet of next-gen aircraft."
MROs in Saudi Arabia are also progressing, but with little external fanfare. Alsalam Aerospace Industries is a joint venture under the Kingdom of Saudi Arabia's offset programme, which aims for self-sufficiency in commercial and military aircraft maintenance, overhaul and modifications. The MRO is based in the Riyadh King Khalid International Industrial Zone and also offers manufacturing, technical support and VIP interiors capabilities.
Saudi Arabian Aerospace Engineering Industries (SAEI) is wholly owned by parent airline Saudia and is headquartered at King Abdulaziz International Airport in Jeddah. As well as supporting Saudia and its affiliates, the company also provides MRO services to other local, regional and international airlines, and has ambitious growth plans.
Conclusion
There are a multitude of reasons to choose Middle Eastern MROs for maintenance work, according to Joramco's Currie, not least the expertise of the workforce. But he acknowledges that different parts of the Middle East and different companies there offer different benefits. 
"The Middle East is not a one trick pony; the benefits of being in Qatar, the benefits of being in Abu Dhabi, Dubai or Jordan are very different and it all depends on the proposition that you're offering," he says. 
One particularly relevant challenge at the moment is the people factor – and the "significant movement of people we're going to see not just in the Middle East but across the globe". Many people were either let go, changed jobs or reconsidered their career as a result of the Covid-19 crisis. "Already the industry is starting to see pressure on people being attracted to new roles across the region," reports Currie. "Companies have to consider the complete benefits package as they can't focus on rates as the industry is not well positioned to sustain increases."
Regardless of the "shuffling of the pieces" around the Middle East, Currie says the region does have a very stable workforce, and this is a major benefit for MRO companies there. 
"People want to be in this region," he says. "The lifestyle, whether it's looking for a family-orientated lifestyle in Jordan or an expat lifestyle in Dubai, once you've made that decision to work in those areas you tend to stick with it. So although you'll see movement of people, it is sustainable. Customers will come to the Middle East because we have a high degree of stability and we do attract the excellent engineers." 
Signup our newsletter to get update information, news, insight or promotions.